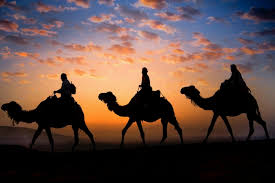 If you've gazed through the travel shop windows over recent years, you'll probably know all about Tunisia and its golden beaches. At the same time, you probably don't have quite as much knowledge on its terrific potential for hiking enthusiasts.
In simple terms, this is a hiking paradise. Not only does it have an ideal landscape, it has some of the most interesting cultural attractions around. It means that hiking around the country provides a perfect way to explore it in way that most other tourists just aren't able to see.
Of course, just turning up and walking near your resort is asking for trouble. In fact, some of this trouble can be more severe than you might first imagine – you only have to read our second hiking suggestion to see that. It's for this reason that we have put together the following page, as we mull over five of our favorite hikes in Tunisia as well as providing the necessary advice that can prepare you well for such an experience.
Hike #1 – Lake Ichkeul
Let's start with a hike that you can really dictate the length with. While a lot of our suggestions are set routes, Lake Ichkeul is instead a mountain based around a lake meaning that you can really go as far as your feet permit.
The beauty about Lake Ichkeul is that it circulates Ichkeul National Park, which happens to be a Unesco World Heritage site. If you happen be into birds you are in luck as well – this area contains some of the most fascinating wildlife around.
Hike #2 – Djebel Boukornine
Remember we said that some hikes might be bordering on dangerous? Well, here we go.
Firstly, let's not hide the fact that this hike can be utterly picturesque, if you tread carefully. It's based around the National Park of Boukornine and considering the fact that this has been pretty much abandoned now, it provides several interesting sights.
Starting at Hammam-Lif, you will work your way up the mountain and find yourself immersed in some of the best views you have ever set eyes on.
However, make sure you don't reach the summit. A military base is situated here and while you probably won't be mistaken for genuine intruders, it's still worth avoiding.
This trail should take around four and a half hours to complete, with the descent being approximately 2,350 ft.
Hike #3 – Korbous
From a statistical point of view, this next one is very similar to the previous. It's 3.5 miles in length, but is by no means flat and most people will find the rocky environment pretty hard to master on their feet.
Once again, the views are second to none here. You'll be traveling through Ain Kanessira and Robinson's creek, meaning that hot baths will complement the extraordinary views as well.
Hike #4 – Chenini to Douiret
For anyone looking for a more relaxing trek, this is probably the one that's the most advisable. In short, you will be traveling between Berber villages – meaning that you gain a real sense of culture as you trek through it.
Don't be fooled into thinking that the villages are stuck out in the middle of nowhere though. While they might be from a literal point of view, they are based between mountains which means there are umpteen sights to set eyes on as you walk.
You will be trekking just over twelve miles with this hike – but it's fairly relaxed and shouldn't take more than half a day to complete.
Hike #5 – Zaghouan
This final hike is the same length as the previous one we've just mulled over. The big difference is the elevation-factor though; this time you will be trekking upwards to the tune of around 4,000 ft.
In other words, this isn't for the faint hearted and you will require some training (see below). However, fitness aside, some of the sights are an absolute joy. By traveling to such heights you really will open up some fabulous views. Additionally, merely returning to the village of Zaghouan is beautiful and means that the start and end point of this hike is a real gem.
What is the best way to prepare for hiking in Tunisia?
If you are merely planning a quiet walk every so often, it goes without saying that the preparation advice isn't going to be overly extensive. However, for anything longer-term, you really have to prepare accordingly.
Let's firstly start with the general health and fitness, check mensanswer.com or menshealth.com for more help in this topic. Again, this is only going to occur in those instances that your body is going to be pushed, but cardiovascular training is always going to be seriously advisable. Even for some of the hikes which are just a couple of miles in distance, the fact they are on rocky terrain and perhaps on an incline means that it will stress your body to surprising lengths. Bearing this in mind, make sure that your training replicates this; if you are running, turn to a treadmill with the incline option (if you can't train outdoors).
While cardio is probably the most important form of training, you shouldn't neglect the weight training element either. If you are spending a day, or maybe longer, on a hike you will need substantial supplies. This is where your back and shoulder muscles really will have to be in shape – and this should be incorporated into your training plan. As well as this, training your quadriceps and core is important, and will again provide you with the necessary power for the hike.
As well as fitness, you should also be aware of your nutrition. During the walk itself, complex carbohydrates are going to help no-end and will provide you with that all-important energy. Make sure you avoid sugary snacks as while you will gain that initial peak in energy, it will soon dwindle and you will be left feeling worse than before.
We should also give a mention about clothing. Naturally, walking boots with ankle supports are absolutely essential when the terrain is anything other than flat, while you will need to ensure you are protected from the sun. While sun screen can do a good job in a lot of these cases, consider taking a scarf which can protect your head when the heat really does start to intensify.
A closing summary on hiking Tunisia
Hopefully, we've been able to demonstrate the immense potential that Tunisia has from a hiking perspective. As we alluded to in the opening section, this is a country which tend to be renowned for its beaches and typical tourist activities – but delve deeper into it and it becomes a true hiking hotspot.
At the same time, there is some general preparation advice you should attempt to follow. While simple hikes are unlikely to pose any risk to your health, once you step things up a gear you really have to make sure you are in shape and your body is able to cope with the demands.